The Oratory of SS. Crocifisso was built in the 18th century on the site of the Company of Corpus Domini, also called "dei Battuti and dei Neri", whose seat was erected right on its left side, and it holds the Holy Crucifix, a secular-venerated wooden sculpture of the end of the fourteenth century. The architectural complex was severely damaged by the earthquake of 29 June 1919, so much so that in the following years it was necessary to proceed with the reconstruction of a large part of the church and the chapel; these were the headquarters of the Compagnia dei Neri (Company of Blacks).
On this occasion, the Fornaci San Lorenzo lent their work to the cause, but no significant traces remain today. On the back wall of the presbytery of the oratory of the Compagnia dei Neri, there is a beautiful stained glass window divided into three panels, each of which is framed by corbel motifs and rosettes referring to the sixteenth-century style. In the center of the right sector, there is a coat of arms, in late Renaissance style: it relates to the Compagnia dei Neri and shows the Eucharistic symbols of the chalice and the sacramental bread, and the grill of the holy martyr protector of the town (Saint Laurent). The window was donated by the Fornaci and by Chino and Teresa Chini in 1922. The product, of appreciable quality, has suffered considerable and serious losses and has probably also been disassembled and reassembled incorrectly.
Leaving the chapel of the Confraternity, under the portico of the Sanctuary there are two ceramic reliefs depicting the Annunciation Angel and the Madonna Annunziata, above the side doors of the church: the figures are inspired by the Annunciation of the Ospedale degli Innocenti in Florence, by Andrea della Robbia. Augusto Chini made a copy of this work of art and is kept at the Saint Francis Nursing Home.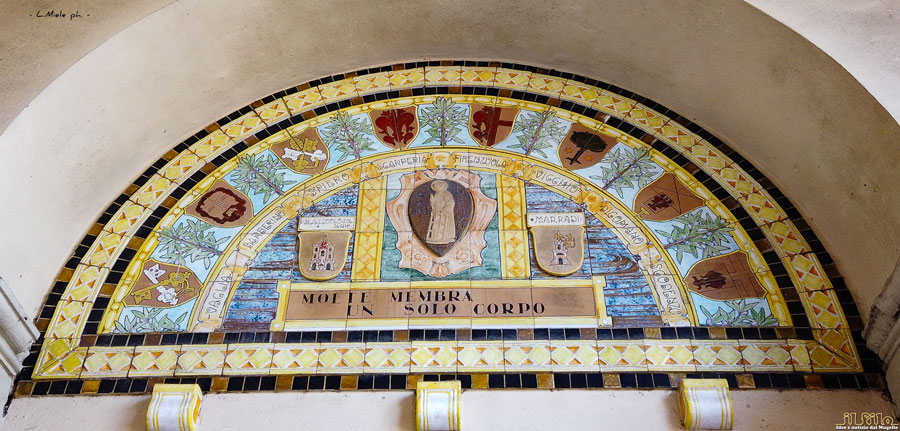 The large majolica lunette in relief, also placed under the atrium of the Sanctuary and depicting the coats of arms of the Mugello municipalities, was created by Augusto Chini. Inside the church, there is a beautiful majolica tile panel depicting St. John the Baptist. In this monumental painted panel converge Medieval, Renaissance and Art Nouveau influences; a second example is known, evidently taken from the same drawing, and attributed to Galileo Chini.